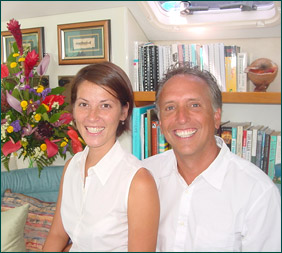 At Vital Vacations we combine the most extensive listings of yachts in the world, with executive class service. From sail to power, yachts to mega yachts, we have what you need. We also cover every place you'd ever want to cruise; the Caribbean, Mediterranean, South Pacific, even Alaska.
Our team has operated charter yachts, sailed across oceans and run international travel companies. We know the yachts, the crews, and the destinations. We spend a tremendous amount of time each year attending boat shows all over the world, inspecting yachts and interviewing crews. So give us your needs, sit back and let us do the work. And here's the best part, the yachts pay our fee, so our services are free to you.
Our team is led by Matt & Catherine O'Hayer. Their thrill for new adventures and all around love for life led them to purchase and operate their own charter yacht for 4 years, covering over 35,000 sailing miles from Maine to Grenada.
Matt grew up sailing the waters of Narragansett Bay, Rhode Island. At age 12 he taught sailing at Brown University's Sailing Club. He is a highly qualified yacht captain. sailing all types of vessels for the past 37 years. He is a U.S. Coast Guard 100 Ton Master-Captain as well as a PADI Rescue Diver. Matt is also an accomplished chef. He has studied with chefs from the Culinary Institute of America and Johnson & Wales University College of Culinary Arts. He has also studied with chefs in Hong Kong including Martin Yan and Lilly Levin.
For the past 30 years Matt has been a CEO of a number of small to mid-sized companies that he founded. His company's primary areas of focus were in the leisure travel fields. Over this time period he completed 25 acquisitions and a NASDAQ IPO. He has been an instrument pilot for over 25 years and was a member of Young Presidents Organization (YPO) for over 10 years. Matt is the Chairman of the Board of the Charter Yacht Society of the British Virgin Islands, the non-profit association which serves the interests of all crewed charter yachts in the BVI's.
Catherine O'Hayer hails from the Mid-West. She has logged thousands of miles with Matt aboard a variety of vessels including Swish, a 50' luxury charter catamaran that they operated together. Catherine is an accomplished chef as well, studying with chefs from The New England Culinary Institute and Johnson & Wales University College of Culinary Arts. Before embarking on her nautical career, she was a professional photographer in Kansas City. Catherine is also a Certified PADI Dive Instructor, having taught students from all over the world how to safely enjoy the undersea world. In May, 2006, Catherine completed a one month long Yoga Teacher Training Certification at the Kripalu Yoga Center in Lennox, Massachusetts.

As a First Mate, Dive Instructor and chef on nearly 100 charters Catherine has an intimate understanding of the needs of the charter guest. This experience along with her inspection of hundreds of charter yachts each year around the world makes Catherine uniquely qualified to match charter clients to their perfect yacht.